News
Custom-sized exact-measurement private residential Installation!
(Louisville, KY) We excel in exact-measurement installations. In this case an over-the -fireplace custom private residential installation.
Recently, we were challenged with an installation that our customer wanted to be mounted over his fireplace, which was framed with a beautiful ornate white trim.
Our solution was to create Doug's famous image, "Kentucky Morning Turnout" as a 48" x 30" x 5/8" Chromaluxe art panel and to "float" the image off the wall slightly, using a "French Clip" technique, to hang it in place.
The result was spectacular! No glare of glass and the image is extremely durable with brilliant colors!!
Call us with your imaginative idea and we will create it!!! (800) 854-5613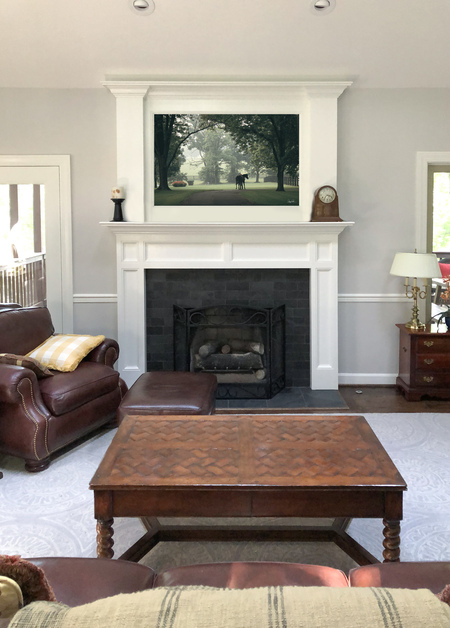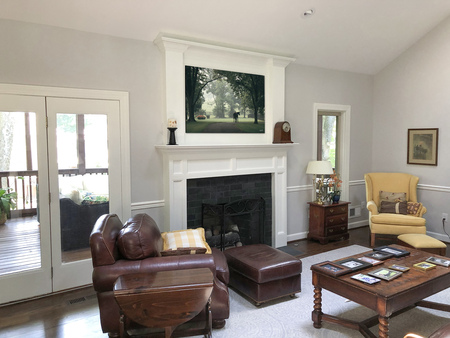 Portrait of a Soon-To-Be-Mom and her old friend!
(Nicholasville, KY) Portrait of a young-mother-to-be and her old friend, Jack Sparrow, a 24-year-old North American Draft Horse. She has owned him since she was FIVE YEARS OLD (19 years!!!)
JUST TWO DAYS LATTER she gave birth to a beautiful baby girl!!!
Momma, baby, daddy, and Jack are doing just great!!!!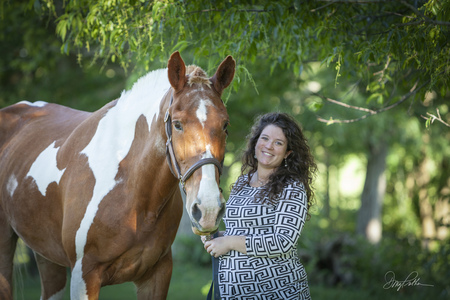 Portrait of a Soon-To-Be-Mom and her old friend, Jack Sparrow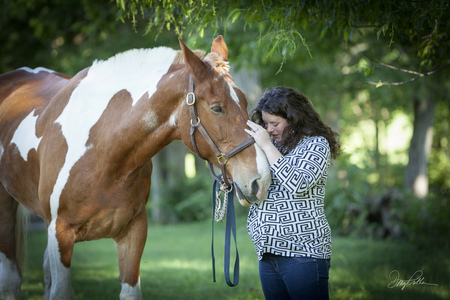 Portrait of a Soon-To-Be-Mom and her old friend, Jack Sparrow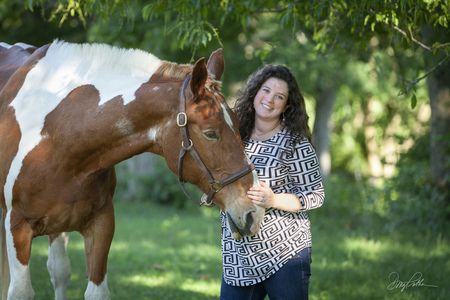 Portrait of a Soon-To-Be-Mom and her old friend, Jack Sparrow
6 sets of shoes!
Portraits of a Dressage Horse, EVA
(Lexington, KY) Portraits of the Dressage Thoroughbred horse, EVA, at Arendahl Farm, on Old Frankfort Pike.
EVA is getting ready for Dressage workouts, walking to the ring, and working in the ring on a late summer beautiful Bluegrass afternoon. She is under tack and looking spectacular!!
The action shots are finalize with Chromaluxe portrait panels over the owners mantel and other places throughout the home.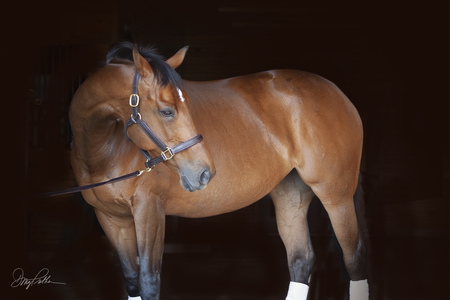 Portrait of Eva in her barn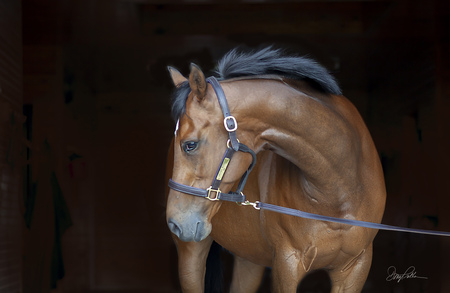 Portrait of Eva in her barn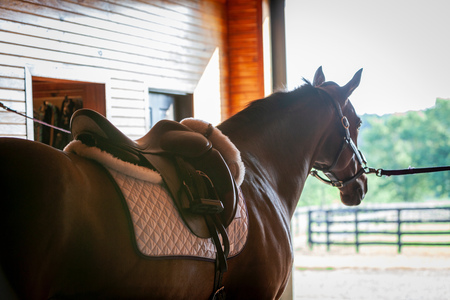 Portrait of Eva in her barn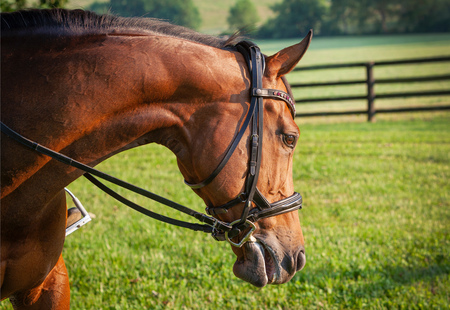 Portrait of Eva under tack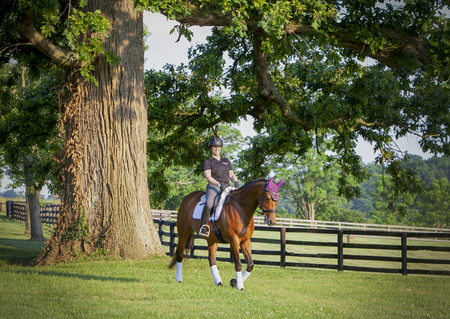 Portrait of Eva walking by Oak tree at sunset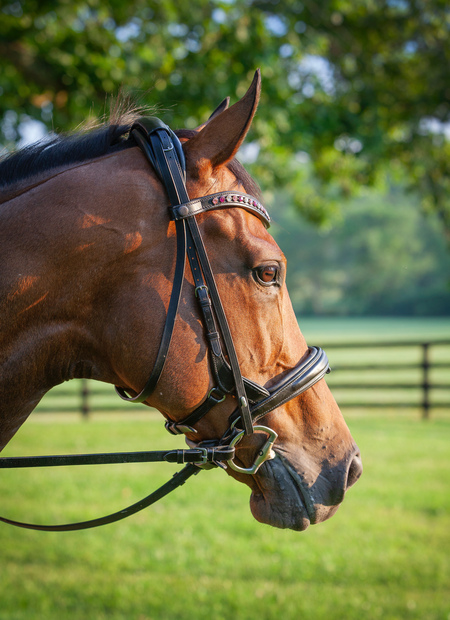 Portrait of Eva under tack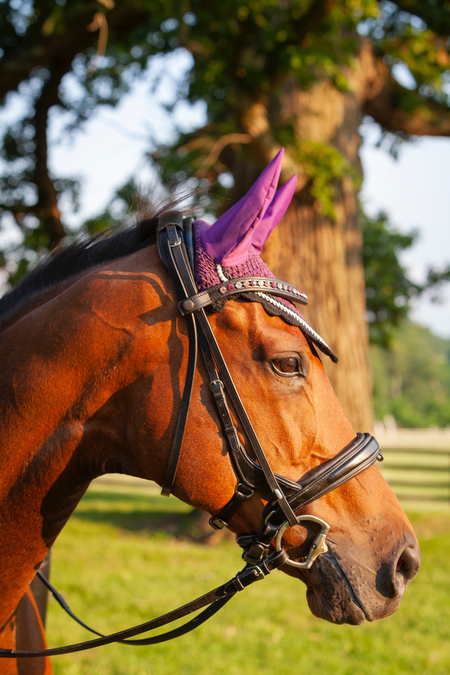 Portrait of Eva under tack and head gear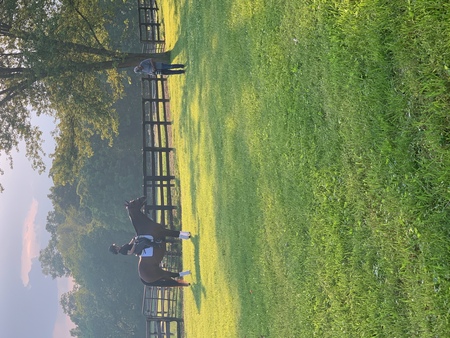 Doug photographing Eva
Portrait of Eva while Dressage traing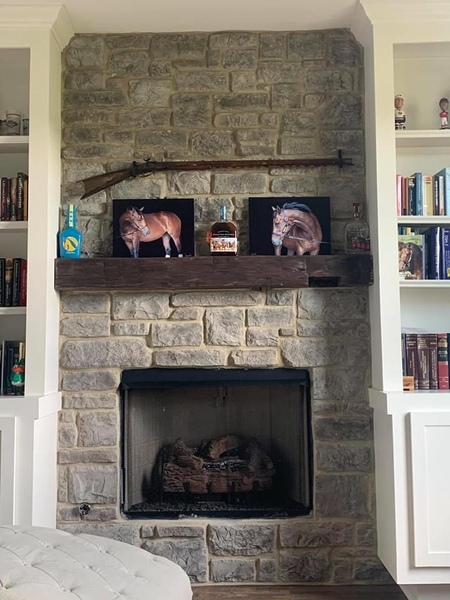 Final images of Eva over fireplace before hanging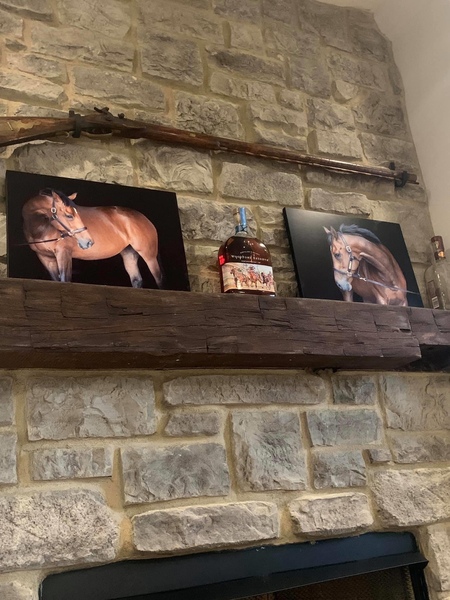 Final images of Eva over fireplace before hanging
New Installation Technique!
(Louisville, KY) A 10 foot wide x 8 foot tall state-of-the-art EFX vinyl mural wall room installation was recenty installed in a private residential entertainment room in Louisville, KY.
This dynamic image of, "Paints In The Powder", the client says is so three-dimentional that it often "startles them" from time to time. "You can literally feel the power of the paint horses rushing toward you in the fresh powdered snow! !t's so overwhelming, it's like you are actually there!", they say.
The process used to create the mural is a new EFX satin vinyl wall mural material that uses archival color inks that won't fade over time. The material flexes to unusual spaces or corners and is able to be cut to exacting shapes by the installers.
Custom orders are available upon request for a wide variety of sizes for corporate and private applications.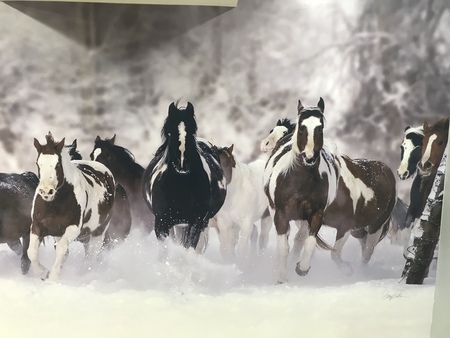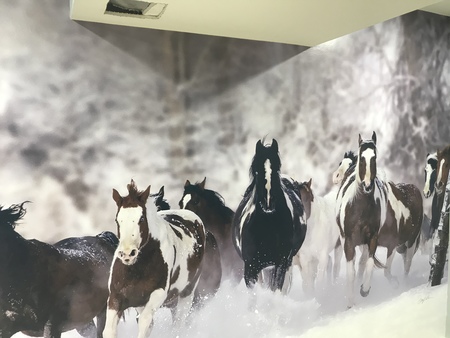 ACUITY - Wealth Managment Advisor installation
(Lexington, KY) Three oversized Chromaluxe by Doug Prather were installed in the ACUITY - Wealth Management Advisors offices this week in downtown Lexington, Kentucky.
An 8 foot long image of PISGAH SPRING greets clients in the foyer; a 9 FOOT LONG image of FALL FOGGY MORNING is in their boardroom; and a 60" x 40" image of THE GLORY OF KENTUCKY is in their central hallway.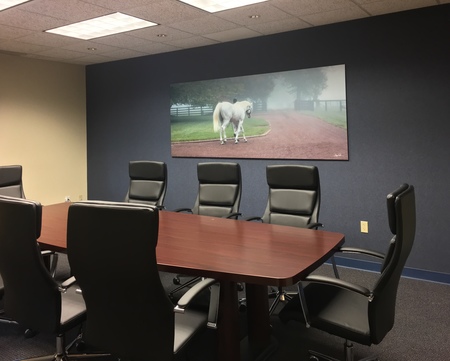 9 foot long FALL FOGGY MORNING in the ACUITY 20 foot long Conference room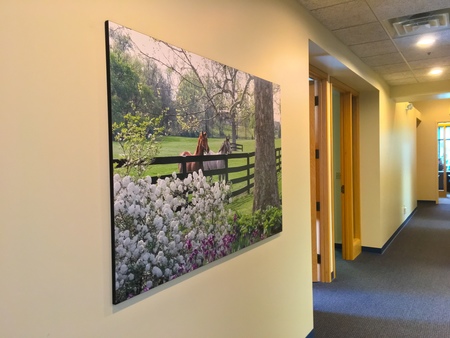 THE GLORY OF KENTUCKY Chromaluxe in the ACUITY main hallway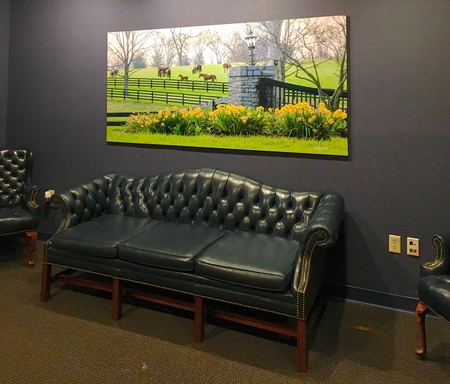 8 foot long PISGHA SPRING Chromaluxe image in the ACUITY entrance foyer
Overflowing Crowd at $225,000 CSI3* Hagyard Equine Grand Prix
A capacity-plus crowd was watched in excitment as Paul O'Shea and Skara Glen's Machu Picchu win the $225,000 Kentucky Invitational CSI3* Grand Prix presented by Hagyard Equine Medical Institute, part of the Land Rover Kentucky Three-Day Event presented by MARS EQUESTRIAN, at the Kentucky Horse Park, Lexington, KY.
A standing room only crowd of 10,162 whooped and cheered every rider, and the riders were appreciative of their enthusiasm.
"The crowd is just fantastic, and yes it's unusual for us, we're not that used to it," O'Shea said. "It definitely raises your game and 'Machu' is very experienced so it helped us, he rose to the occasion. It was very nice how the crowd was so into it."
"We were kind of saying this is how grand prix should be," agreed Eugenio Garza, finishing with Armani SI Z, "It was an incredible crowd. My horse benefited from the crowd and the cheering. It's a little more attention and he jumps better. It's a great crowd and event, thanks to EEI for putting it on. It's a pleasure to be here."
"It's much more interesting for us to ride and the atmosphere makes everyone happy and we all enjoy it," said Rown Willis, who finished third on Blue Movie, "My mare jumped fantastic in front of that crowd. It's great for the sport."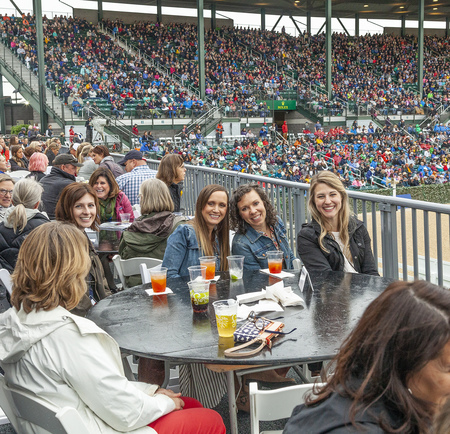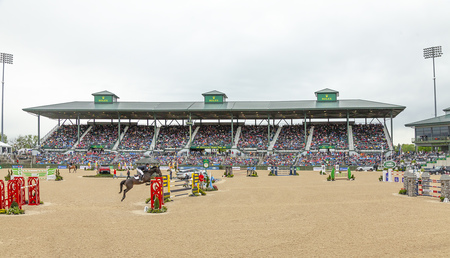 Doug Prather meets Triple Crown Winner JUSTIFY
(June 14, 2018, Louisville, KY) Undefeated Triple Crown Winner, JUSTIFY, returned to Churchill Downs for a week to Bob Baffert's Barn 33. This is the barn where he and American Pharoah both were stabled for their Kentucky Derby (G1) wins and then on to Triple Crown victories.
Doug Prather and a friend were able to visit the Champion during a slow day and actually get up close and personal with this soon-to-be immortal race horse.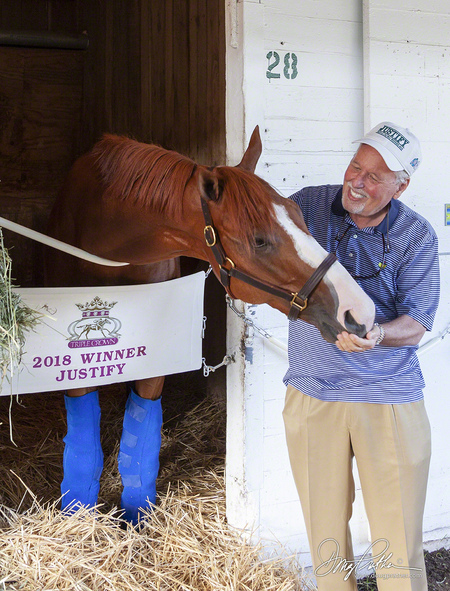 JUSTIFY nuzzles up to Doug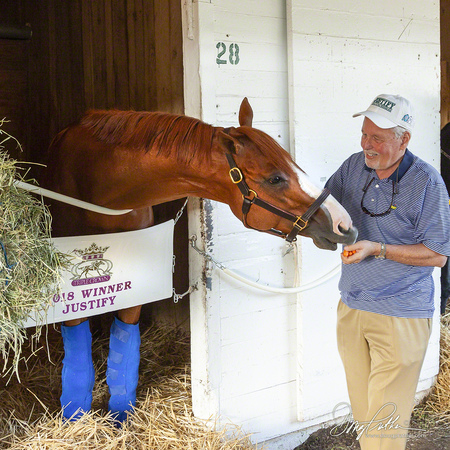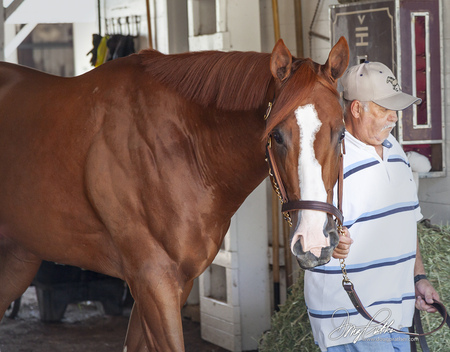 Doug Prather gets his JUSTIFY Triple Crown Winner 2018 cap
(June 11, 2018, Versailles, KY) Doug Prather receives a "JUSTIFY Triple Crown Winner 2018" cap at the WinStar Farm Office, Versailles, KY.
He is standing in front of the Farm's trophy case (a special shout out to Diana for taking this pic!!)
JUSTIFY is the 2018 UNDEFEATED TRIPLE CROWN WINNER. winning the Kentucky Derby (G1), Preakness Stakes (G1) and Belmont Stakes (G1) . To top it off... HE WON ALL OF THEM WIRE-TO-WIRE, and in either the deep slop or on a dry surface.
He is only the 13th Triple Crown Winner in to have accomplished this amazing feat.
Congratualtions and Blessings to the WinStar Team!!!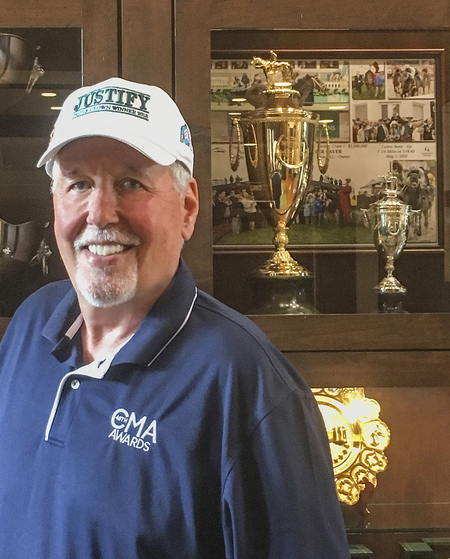 New Custom-Size Louisville Installation
(2/3/18, Louisville, KY) A custom-ordered, 8 foot wide by 40" high, "A New Beginning", was recently installed in a private residence in Louisville, Kentucky.
Doug Prather Art, Inc. offers custom-sized art and custom installations throughout the United States for private and corporate clients.
Call customer service at 800.854.5613 for your custom details.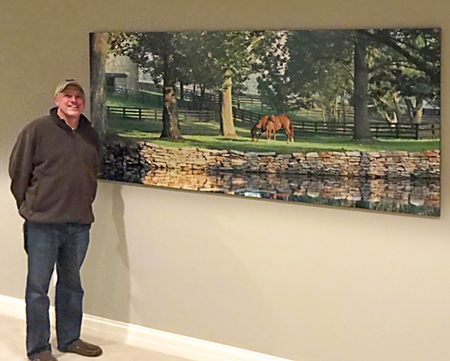 New Corporate Installation in Louisville
(1/24/18, Louisville, KY) Phase I of a major installation of Doug Prather's artwork was recently installed in a new corporate office and distribution center in southern Louisville, Kentucky.
Eleven massive Chromaluxe art panels were installed in the Primary and Secondary Conference Rooms, Meeting Rooms, Lounge, Lobby and Reception Areas.
A unique 5-panel, 12' wide image of Doug's, Fall Flowers and Leaves, offers a "window-like" image in the first floor Conference Room.
Unique 12 foot wide, 5-panel, "Fall Flowers & Leaves", window-style art panel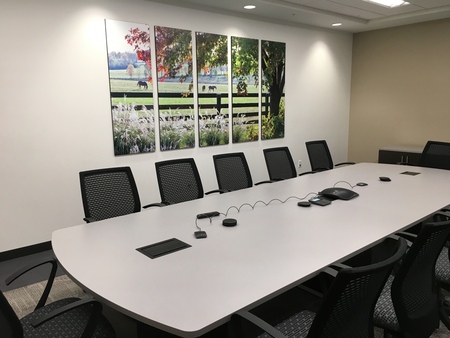 Unique 12 foot wide, 5-panel, "Fall Flowers & Leaves". window-style art panel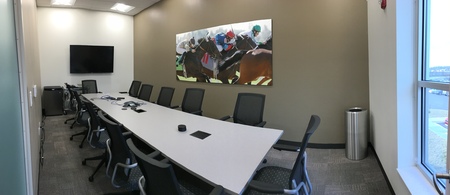 8-foot wide "Down To The Wire" in Small Meeting Room (wide angle)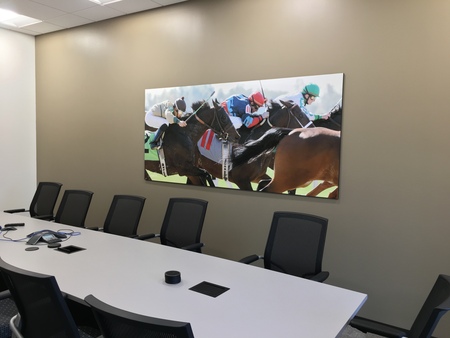 8-foot wide "Down To The Wire" in Small Meeting Room
2, 60"x40"s and a 8-foot wide, "A New Beginniing", spanning the 43 ft. long Main Conf. Room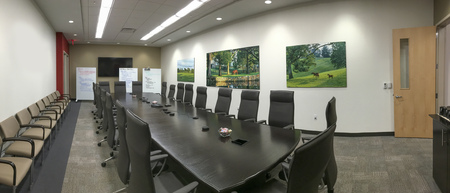 2, 60"x40"s and a 8-foot wide, "A New Beginniing", spanning the 43 ft. long Main Conf. Room (wide angle)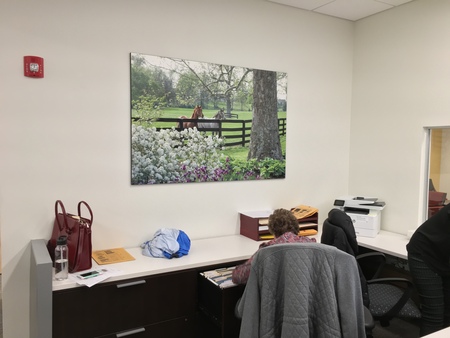 "The Glory of Kentucky", 60" x 40" behind the Reception Desk
"The Mother's Watch", 60" x 40" greets guests in the Lobby Area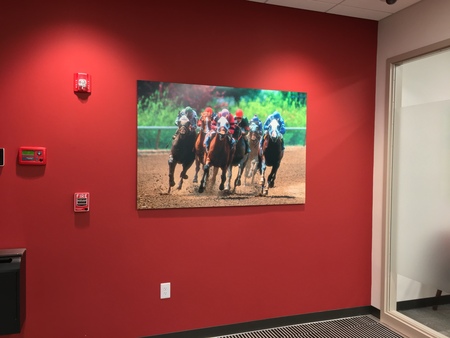 "Heading Home", 60" x 40" in the atrium on a bright red wall .
AAEP/San Antonio Henry Schein Animal Health Booth features Doug Prather's 6666 Ranch print
(November 17-19, 2017, San Antonio, TX) At the recent AAEP/San Antonio Henry Schein Animal Health booth, 1,000 Special Edition signed & numbered limited prints titled, Running The Sunrise, were personalized by Doug Prather over a 3 day period!
These prints are not for retail sale and were available only at the AAEP Hernry Schein Animal Health booth.
Equine veterinarians, specialists and technicians from all over the world stood in line to receive this special print by Doug.
Doug also donated a 48" x 36" x 5/8" art panel Chromaluxe of Running The Sunrise to Henry Schein's Opening Reception drawing on the first evening of AAEP.
This beautiful sunrise images of horses running was photographed on the famous quarterhorse 6666 Ranch in Guthrie, Texas.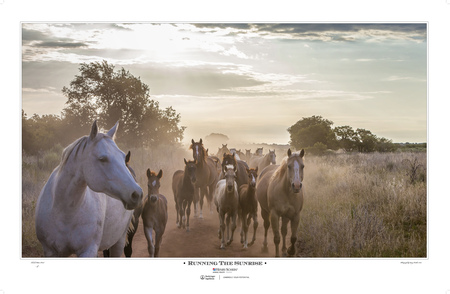 "Running The Sunrise" art print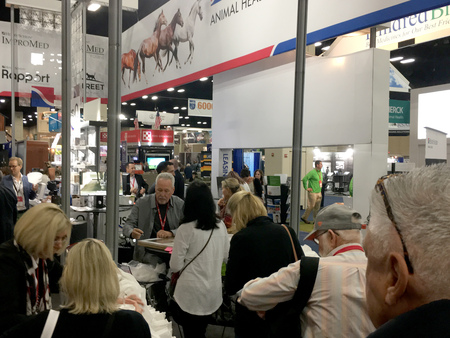 Lines formed each day for Doug's special print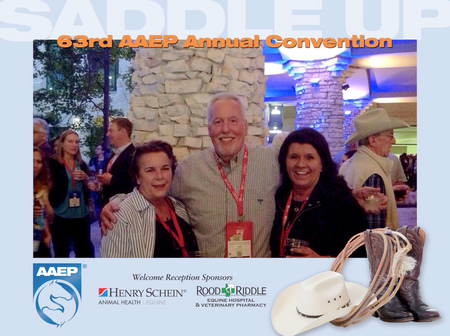 Great friends at AAEP Open Reception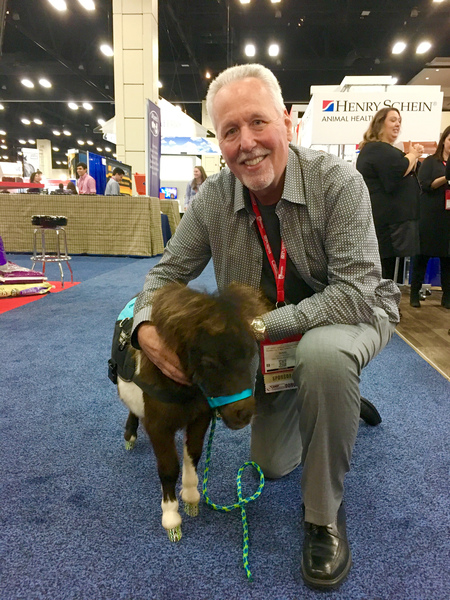 Doug meets a 24" minature horse at AAEP
Louisville Airport NEW BOURBON ACADEMY Restaurant Installation
(March 14, 2017, Louisville, KY) Doug Prather created floor-to-ceiling installation images of Bourbon Barrels for a new upscale restaurant located on the second floor of the main rotunda of the airport, the space previously housed a private club and smoking area where no food was prepared. It was hard to find and lacked appropriate signage.
"The inspiration behind the concept was to not only serve Bourbon to patrons but to educate visitors about Bourbon and the heritage of Kentucky," says Lisa Kennedy, director of design and construction for Wisconsin's Manna, Inc., who provided design and construction services.. The entrance area features a Bourbon education wall where guests can read articles and see artifacts collected from Kentucky distilleries.
The "Bourbon Academy" also features rustic barn-framed Bourbon distillery pictures by Doug Prather.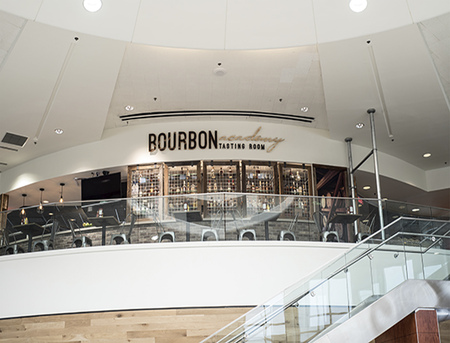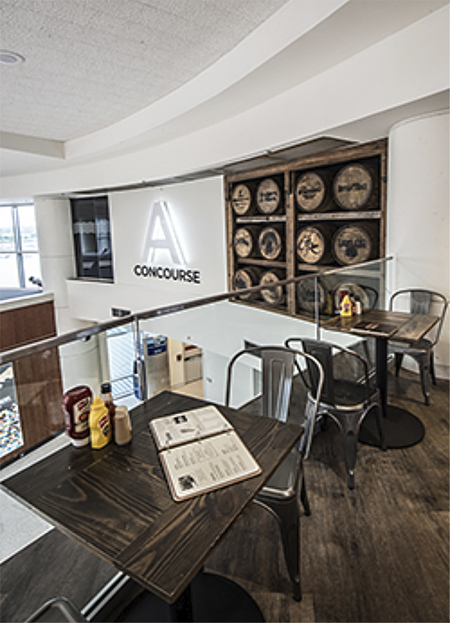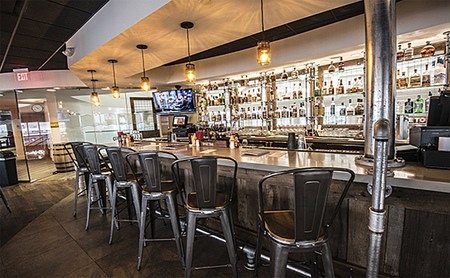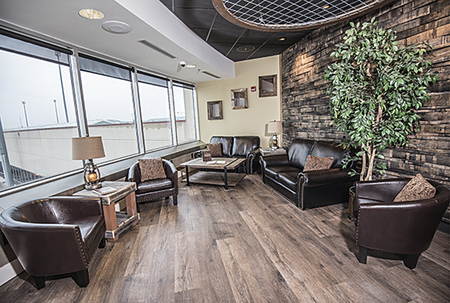 UNIQUE Residential CURVED WALL Installation
A very unique installation design challenge was successsfully created by Doug Prather and his clients in an upscale Lexington home recently.
The client wanted Doug's, Paint's In The Powder, image to span a wide staircase space in their entrance foyer that had a CURVED WALL!!
After a consultation and developing a simulated prototype design, Doug installed this amazing 8 1/2 foot wide by 4 foot tall, 5-paneled installation.
The 5 panels collectively include the entire equine image as they wrap around the curved wall to create a truly unique and stunning entrance statement.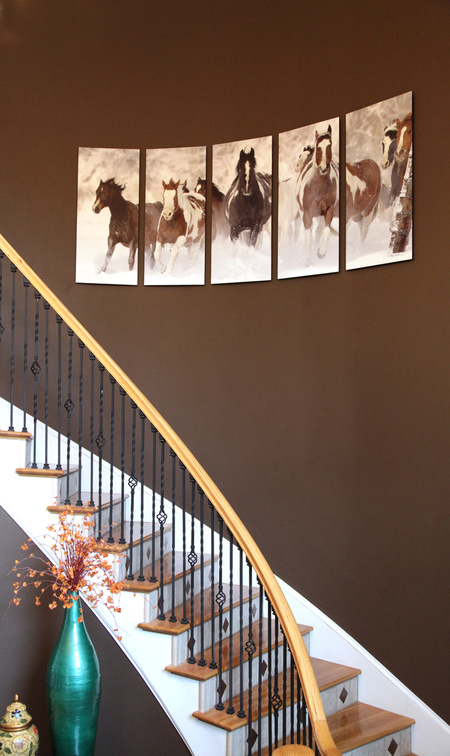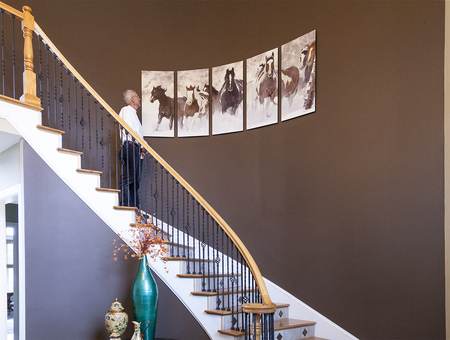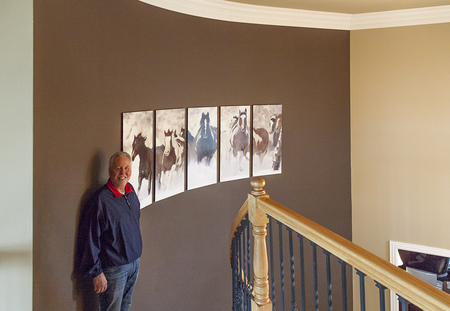 Louisville Airport Chili's Restaurant New Massive Installation
(November 14, 2016, Louisville, KY) The new Chili's Restaurant in the newly remodeled Louisville International Airport features a 25' long by 8 foot tall installation of Doug's famous Kentucky Derby race image in their new dining area in the main concourse.
The massive main-feature installation was printed using a unique barnwood finsh.
Two other 20" x 30" framed images of Doug's are also included in the new restaurant design.
Doug worked closely with Lisa Kennedy, Director of design and construction for Wisconsin's Manna, Inc., who provided her design and construction services for the Chili's (and Bourbon Academy) project(s) to the Tinsley Family Consessions in the airport.
The new Chili's and the Bourbon Academy are two restaurants which are part of Louisville International Airport's major renovation project.
Doug also has 40 oversized installation images in each of the TWO entrances to the Louisville Airport entrances featuring seasonal images of the Bluegrass. His images great thousands of visitors to the Bluegrass every year.
...Now, whether going to your cars or dining, Doug's images are everywhere in the Lousville or Lexington airports!!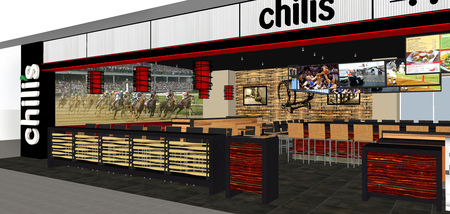 Chili's Restaurant in the LVL Main Concourse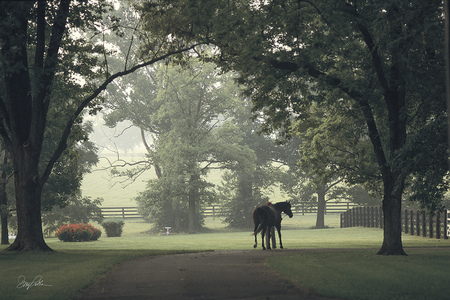 Kentucky Morning Turnout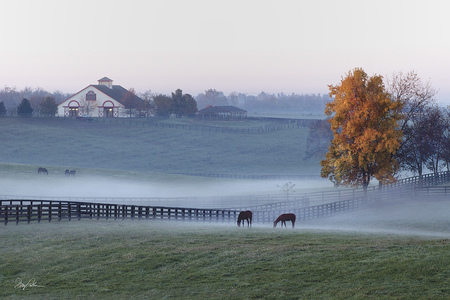 Grazing In The Fog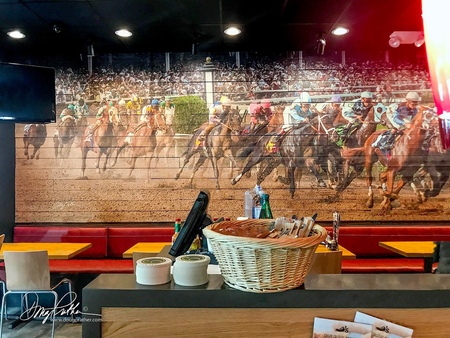 Detail of Barn wood panels in Chili's
Lexington Downtown Hilton Vestibule Images
(May 14, 2016, Lexington, KY) Each elevator vestibule floor in the Lexington Downtown Hilton, Lexington, KY, now features a 47" x 34" x 5/8" Chromaluxe art panel image by Doug Prather which reflects the various beautiful changing seasons of the Bluegrass horse farms.
Guests will often stop on various floors just to admire the images (once they discover that the photogaphs change from floor to floor). Guest Services relayed this message on to Doug as Guests told the front desk their delight in the pictures during check out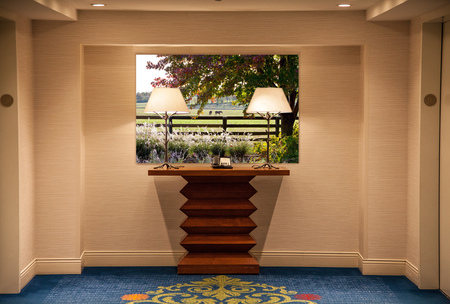 AAEP/Orlando Henry Schein Booth features Doug Prather's American Pharoah print
In the recent AAEP/Orlando Henry Schein booth, 1,300 signed & numbered limited edition prints of American Pharoah were personalized by Doug Prather over a 3 day period!
Equine vets, specialists and techs from all over the world stood in line to receive this special print by Doug. (They were all gone before the end of the show).
Doug also donated a 24" x 36" x 5/8" art panel Chromaluxe of American Pharoah to Henry Schein's Open House drawing on the first evening of AAEP.
Doug Prather's "American Pharoh" print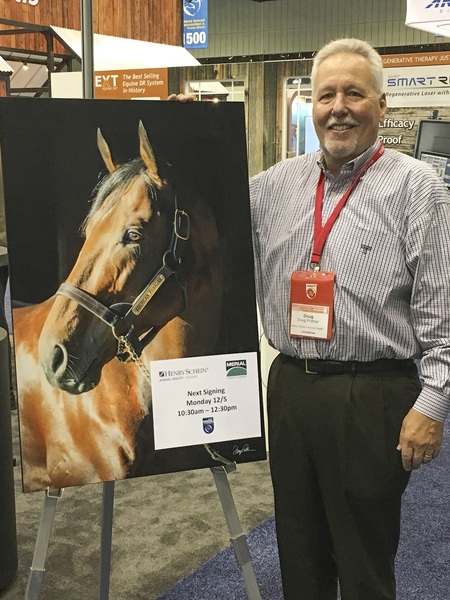 Doug with 24" x 36" American Pharoah Chromaluxe at the Henry Schein Booth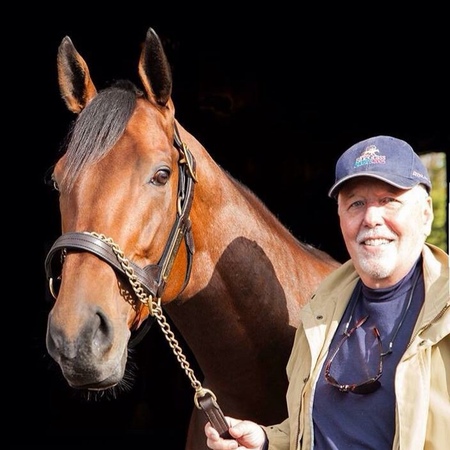 The art subject, American Pharoh, with Doug at Ashford Stud
Doug Prather Meets A Curious Giraffe on a Photo Shoot
(March 16, 2016) Doug Prather's carreer is filled with remarkable photographic adventures spanning the globe: Morning dawns in New Zealand paddocks, 3-Day Eventing in Rio, scenic Tuscany images from Italy, as well as breathtaking equine images from all over the U.S. He has never quite encountered an event such as this. Today's camera allow for video as well as still capture.
Here is a link to Doug's Girafee video: https://youtu.be/aQpby-5a-CU
50 Oversized New Doug Prather Images Have Now Been Installed In The Louisville International Airport Entrances
(Louisville, KY) The Paradies Shops are proud to exhibit the artwork of world-renowned photographer and Kentucky native, Doug Prather. These fine art images, as well as other images by Doug Prather, are available for purchase in the Churchill Downs Shop in the Main Terminal.
Most of the images are 60" wide by 40" tall with two images reaching 84" wide by 40" in height.

These photo panels displayed utilize a unique process in which inks are infused into a specially coated material to produce unsurpassed color brilliancy, superior fade protection and scratch resistance.

For more imformation on purchasing these panels in a variety of sizes contact our office at info@dougprather.com or callling (800) 854-5613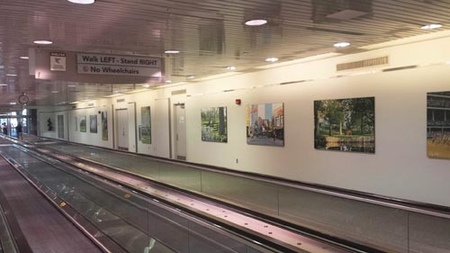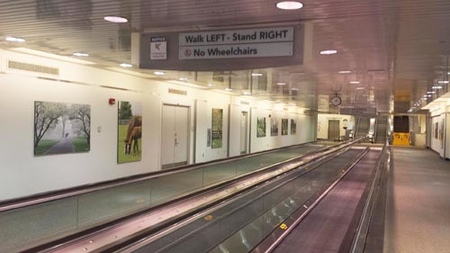 Doug Prather feature article in EQUESTRIAN (Jan/Feb, 2013) Issue EQUESTRIAN is the official publication of the USEF (United States Equestrian Foundation)
Click here to read the article.
Doug Prather signing draws large crowds in California at AAEP Convention
Doug Prather signed limited edition signed and numbered prints in the Pfizer Animal Health Booth during the 2012 AAEP (American Association of Equine Practitioners Annual Convention) in Anaheim, CA. Pfizer Animal Health commissioned a special California-related equine print from Doug for this event.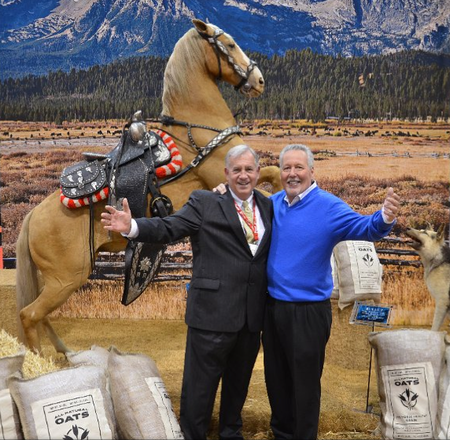 Bill Rood, of Rood & Riddle Equine Hospital, in Lexington, with Doug, Roy Roger's horse and dog (Trigger and Bullet), at the AAEP Convention.
DOUG PRATHER Official Photographer for the Disney Company for the Lexington Screening of the movie, SECRETARIAT
Equine Photographer DOUG PRATHER Installs Photographic Montage In Lexington's New Hilton Downtown Hotel
A new summer seasonal photograph titled Late Bluegrass Afternoon by the internationally renown and Lexington-based equine photographer Doug Prather has just been installed in the new Hilton Downtown Hotel. This dramatic image is at the top of the escalators on the Ballroom/ Conference level.

Thoroughbred yearlings graze in their paddock on a beautiful afternoon in the Bluegrass just after a late summer shower has ended. The farm, Manchester Farm, one of the most photographed famrs in America, is located on Van Meter Road on the south side of Lexington, next to Calumet Farm and the Keeneland Race Course.

This 20-panel installation is 22 feet tall and 16 1/2 feet. The printing technique used to produce these photographic images is called dye sublimation and were created here in Kentucky by Unique Imaging Concepts, Inc. of Louisville. This unusual printing technique uses specific dyes, heat and pressure to transfer the printed image below the surface, permanently embedding the ink into the polymer coating of these special hardboard panels. The final result is a durable, brilliant color image that will last indefinitely. This sublimation montagé is the largest of it's kind in the U.S.

Article Link: http://www.kentucky.com/2009/06/18/835338/downtown-hotel-begins-renovating.html#storylink=misearch

Images by Doug Prather will be changed throughout the year. In mid-September a new Fall image will replace the summer image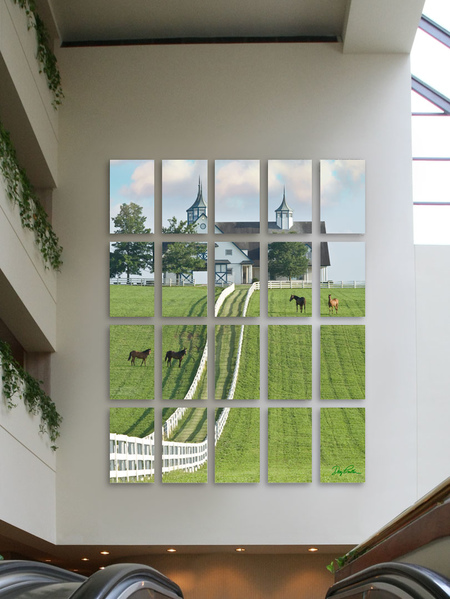 The Doug Prather EQUESTRIAN 2009 Calendar -Wins of Two PIAS Awards... AGAIN!!!
LEXINGTON, KY, July 12, 2009— The DOUG PRATHER EQUESTRIAN 2009 CALENDAR, published by Red Sky Publishing, Inc. recently received won TWO PIAS awards- "Best of Category" and the "Award of Excellence" in the calendar category from the Printing Industry Association of the South (PIAS) at their recent 35th annual convention.

The PIAS Awards recognize and award excellence in design, creativity, production and printing quality, in the printing and publication professions.

"I am extremely delighted to have been honored, particularly that this is the second straight year of my equine performance calendar and to have won such coveted printing awards. I am deeply humbled that Lithographics printing company selected the Doug Prather EQUESTRIAN Calendar to have been entered," said Doug Prather. Doug Prather also has his very popular BLUEGRASS Calendar which has been annually produced since 1994. In addition to a large series of limited edition signed and numbered art prints and canvases, Red Sky Publishing, Inc. also has published the table top and limited edition book, PRIVATE ACCESS, which won the 2006 Best Pictorial Book of the Year Award by American Horse Publications.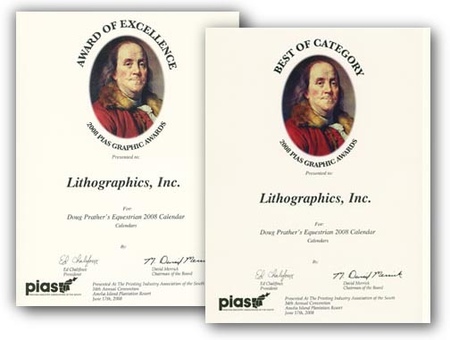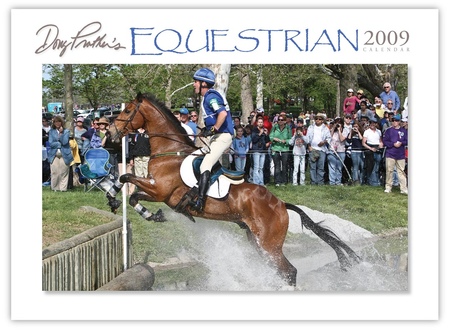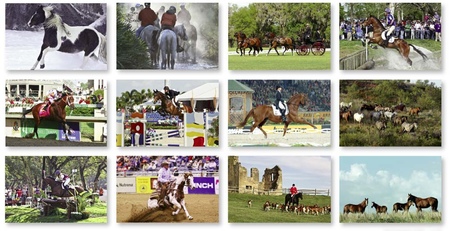 Doug Prather Article featured in Kentucky Living (PDF)
Click here to read the Doug Prather article in Kentucky Living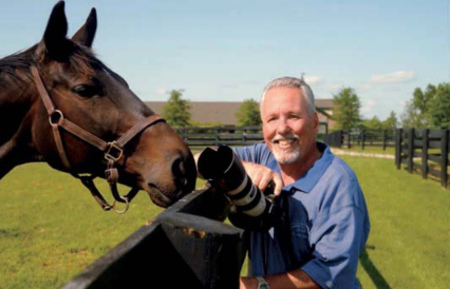 The Doug Prather EQUESTRIAN 2008 Calendar -Winner of Two PIAS Awards- "Best of Category" & "Award Of Excellence"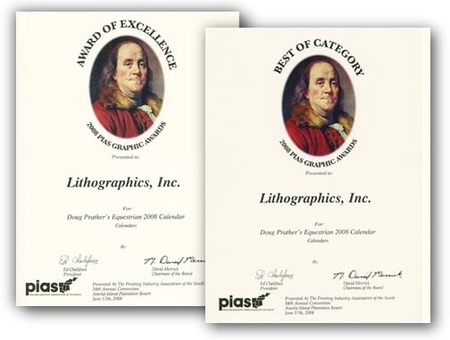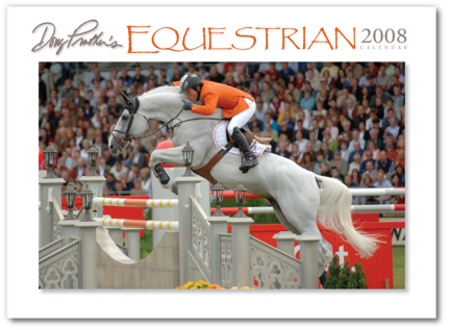 PRIVATE ACCESS American Horse Publication's BEST PICTORIAL BOOK
(June 23, 2007) Rallie McAllister, the Author of PRIVATE ACCESS Behind The Gates of America's Premiere Horse Farms and Ranches, accepted the coveted FIRST PLACE "BEST PICTORIAL BOOK" AWARD award at the American Horse Publication's Annual Awards Banquet in Albuquerque, New Mexico. Participation in this year's contest represented 1,006 entries. Held since 1977, the AHP Annual Awards Contest provides members with an opportunity to be recognized for excellence in equine publishing as well as professional critiques for improvement.

Quoting from the Presentation....

"A truly magnificent book, with the presentation being the perfect venue for the subject matter. The farms and ranches shown here are all the best of the best, and the photography, layout, writing and overall quality match them. The fact that this is a limited edition, put it in a different class from other books here, which were done by commercial publishers and hence had to conform to a business model. This book clearly did not. It looks like a labor of love and art."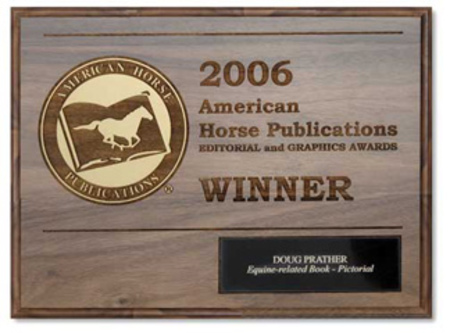 2006 American Horse Publication's Editorial and Graphics Awards First Place WINNNER - Doug Prather - EQUINE PICTORIAL BOOKS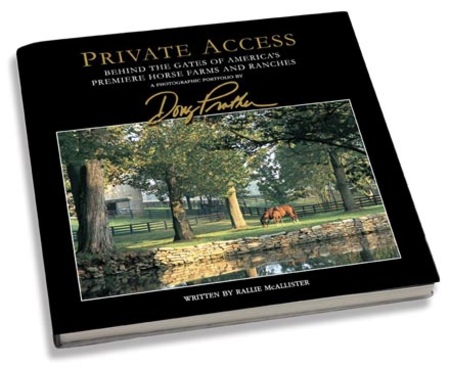 PRIVATE ACCESS BEHIND THE GATES OF AMERICA'S PREMIERE HORSE FARMS AND RANCHES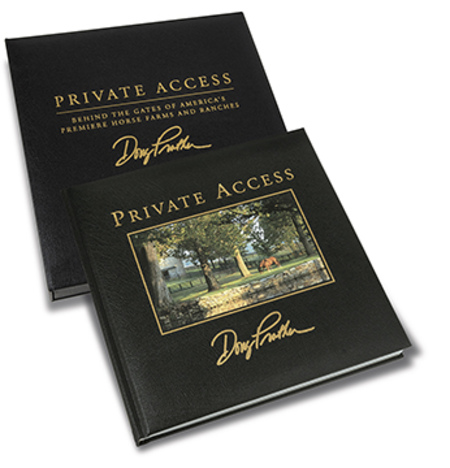 PRIVATE ACCESS - A Limited Edition of 300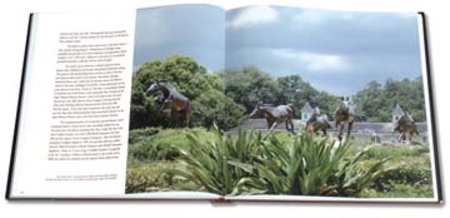 A sample spread in PRIVATE ACCESS.
The Lexington Airport Displays Doug Prather's Equine Art
On June 2007, The Lexington-Herald featured a color page one feature on Doug's Kentucky canvases and images from the 2006 World Equestrian Games canvases in the Lexington Bluegrass Airport. To View the airport's installation or the paper's article click below.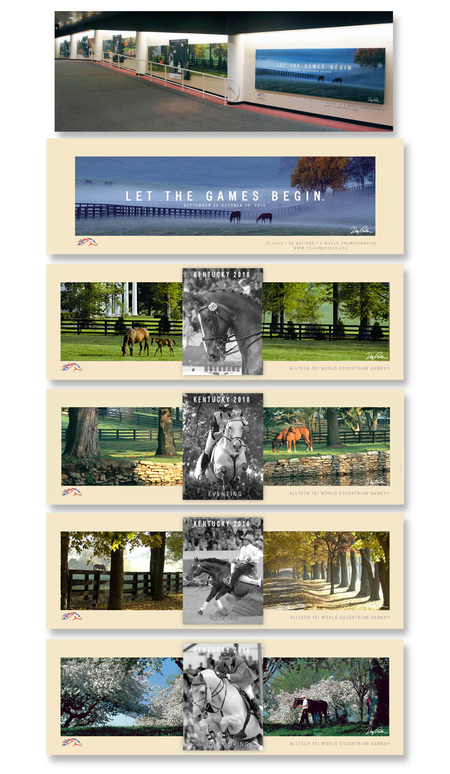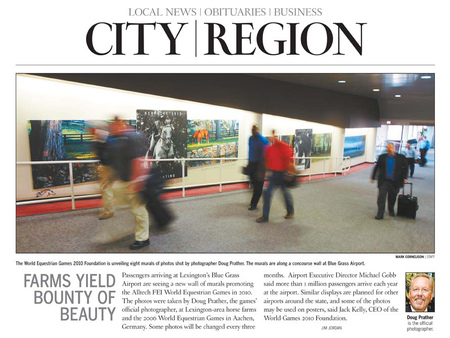 Herald Leader Article
Doug Prather signing draws large crowds at the AAEP and WVC Conferences
Doug Prather signed 2,000 limited edition signed and numbered prints in the Fort Dodge Booth at the 2008 AAEP booth in San Diego, CA. Fort Dodge Animal Health commissioned a special equine print of Doug's for the event which was prersonalized to veterinarians from every state and over 15 countries. Continuous crowds of people wrapped the booth during his signing times for four days. Needless to say, after it was over Doug's hand was a little tired. Doug said, "It is a great feeling to know that my prints are so appreciated. So many people have collected my prints from the WVC and AAEP, starting back in New Orleans five years ago. I am also grateful to Ft. Dodge and their parent company, Wyeth Pharmaceutical, the makers of Advil® pain medicine, because I am going to take a couple of Advil right now to relieve my hand cramps!!", Doug joked.
Covers by Doug Prather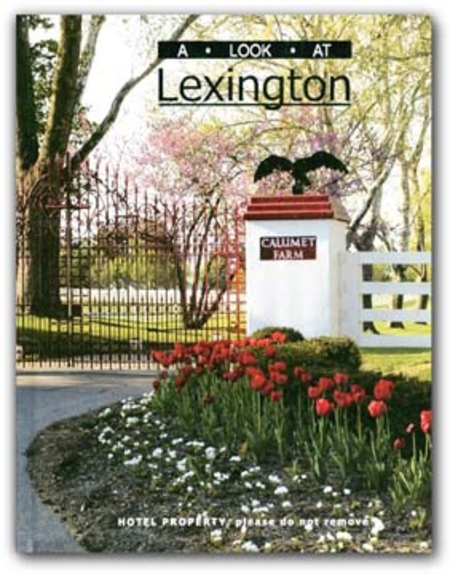 A LOOK AT LEXINGTON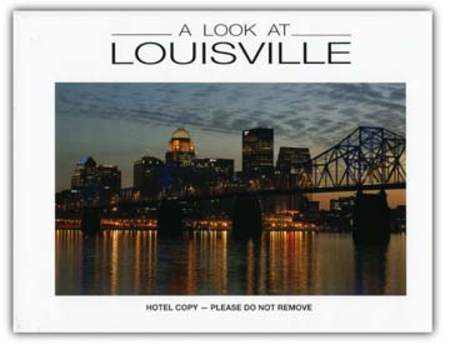 A LOOK AT LOUSIVILLE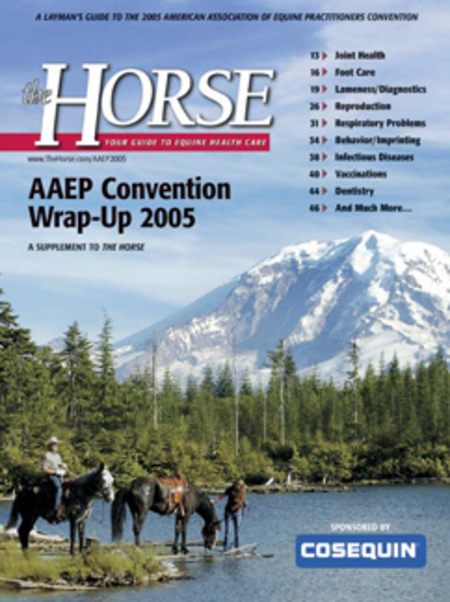 THE HORSE AAEP Convention Wrap Up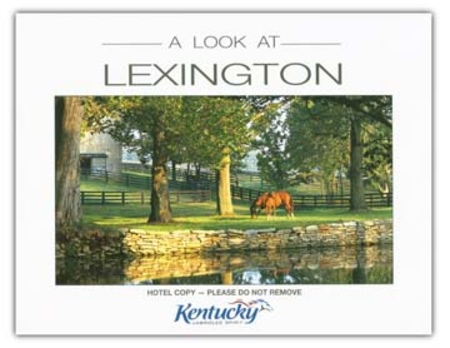 A LOOK AT LEXINGTON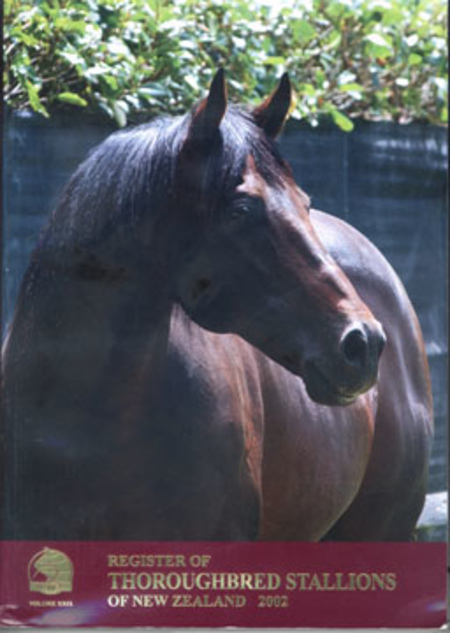 NEW ZEALAND REGISTER OF THOROUGHBRED STALLIONS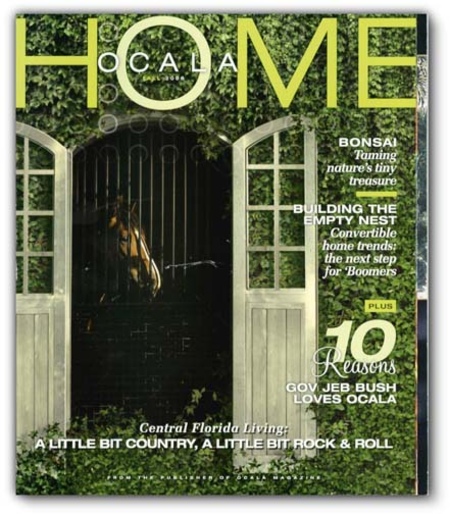 OCALA HOME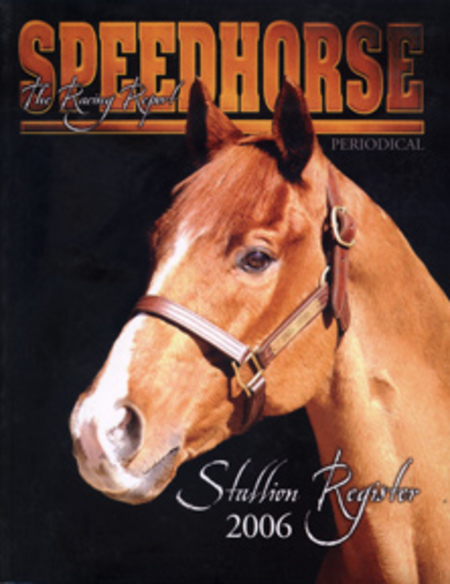 SPEEDHORSE STALLION REGISTER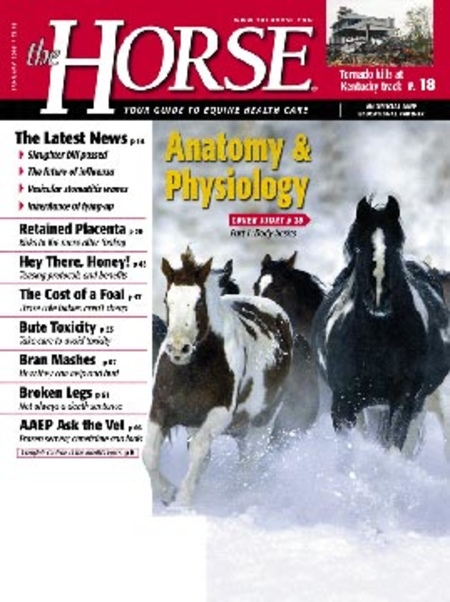 THE HORSE