"Autumn Paddock - A Portrait of El Prado"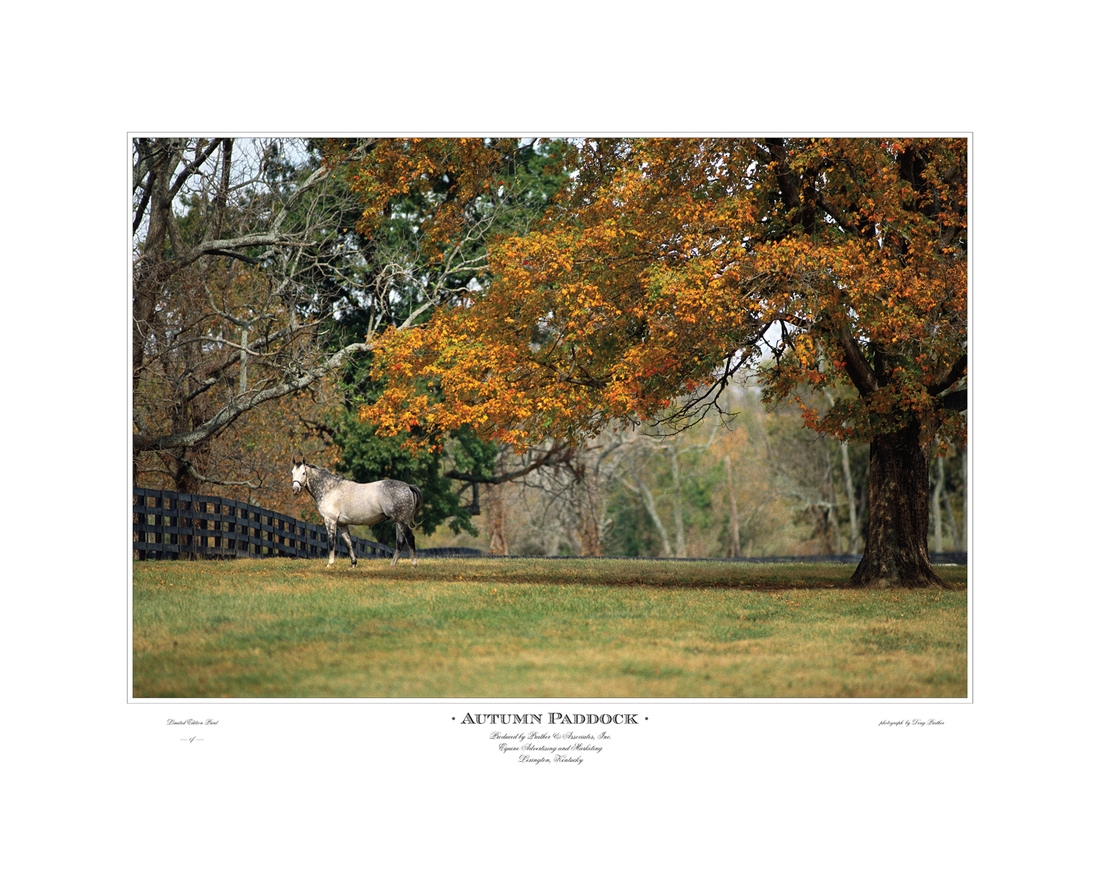 "My print, 'Autumn Paddock' was a gift from the Lord", says Doug.
"It was a beautiful, crisp autumn day on Airdrie stud, near Midway, KY. I saw this wonderful composition of a sun lit tree with golden leaves and it's graceful bowing limb contrasting with the dark receding horse fence and paddock that disappeared over the hill."
"I thought to myself, 'Wouldn't it be an amazing picture if that stallion, El Prado, would come up and stand under that golden tree branch?'"
"As I said, it was a beautiful day in the Bluegrass and I was daydreaming, simply enjoying the beauty of the moment. Some time had passed by and when I looked up, here comes El Prado walking up the fence line! When he reaches the top of the hill, he turns to his left and walks to the base of the big tree. ...He pauses, then he turns around again walks a few steps to the right and then strikes a nearly perfect Thoroughbred horse conformation pose!
Needless to say, I was going absolutely crazy as all this was unfolding! This had never happened to me before."
"This was a once-in-a-lifetime moment revealed to me and I was privileged to capture this on film. I KNOW that this was a special gift ...a truly wonderful blessing. I Thank you, Jesus!!"
(Note: This image has NOT been retouched)!

Print Size: 20" x 25".
Signed and Numbered Lithographic Print
Edition of 2000.



Doug Prather's Chromaluxe Process