Custom Designs & Installations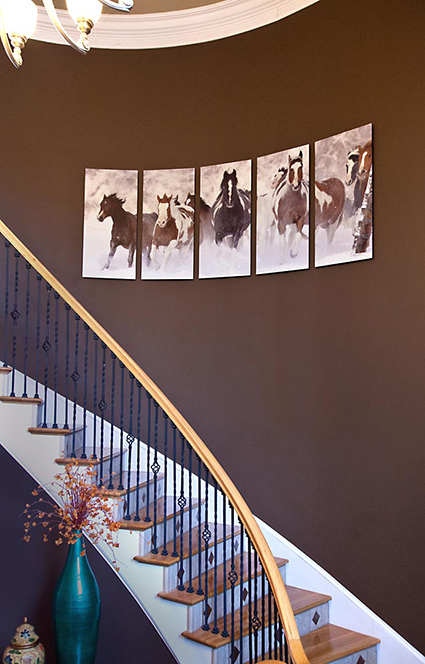 ESTATE INSTALLATION
Just imagine if you were greeted each day by this stunning scene. Doug Prather's unique gift has once again captured the equestrian essence with, "Paints in the Powder".

This 9-foot wide installation wraps the grand staircase in a Heartland Estates residence in Lexington, Kentucky.

To achieve this dramatic effect on a curved surface, five 19" x " frameless Chromaluxe panels were mounted in a special manner to appear floating off the wall's surface.

Unique Imaging of Louisville installed this breathtaking photographic winter masterpiece of Doug's.


50 New Doug Prather Images Installed In The Louisville International Airport Entrances
Scroll to see entire image...
To purchase these panels in a variety of sizes contact our office at 800-854-5613 or info@dougprather.com
Lexington Downtown Hilton 2 1/2-Story Seasonal Art
The Images
The seasonal images were first installed in the new Lexington Downtown Hilton in the Summer of 2010.
These beautiful and durable panel scenes change though out the year to reflect the seasons of the Bluegrass
This is the first and largest installation of its kind in the United States
The vibrant color panels use a special process to insure that the colors will not fade
The Installation Process
This 20-panel installation is 22 feet tall and 16 1/2 feet wide (2 1/2 floors tall)
Each Floating Panel is 3 feet wide by 5 feet tall.
Each panels needs to be installed separately using a special electric vertical hoist to place the panels on the floating brackets.
The Hilton Vestibule
The Hilton Lexington/Downtown now features 11 new Doug Prather seasonal equine images on each of its elevator floor vestibules. They highlight the grand 23' x 16' image that is displayed in the Hilton's main lobby. This giant image is changed out four time a year to reflect the Bluegrass seasons..
The Lexington Airport Displays Doug Prather's Equine Art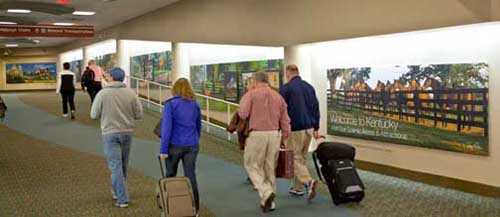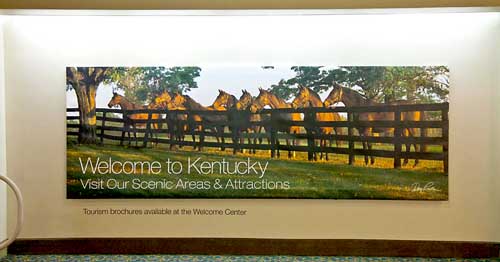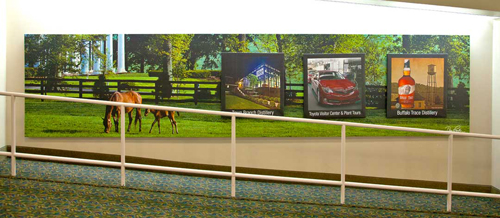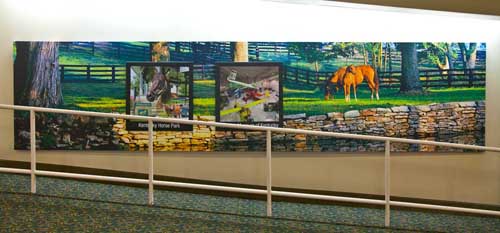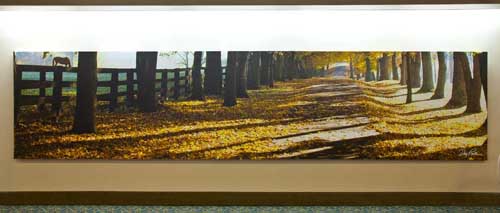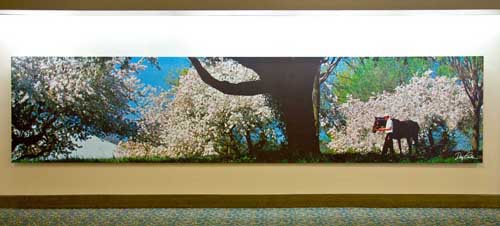 Scroll to see more images...
Nashville
Three 40" x 60" Chromaluxe images were recently installed in a private residence in the Belle Meade area of Nashville. They make a wonderful statement for a Kentucky native as you enter this extraordinary residence on a mountain top hideaway.